Stadsbreed gebed 1 juli 2021 19:30 uur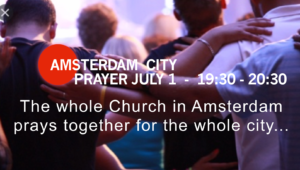 Klik hier voor YOUTUBE link van de livestream van deze gebedstijd voor de stad.
---
Over ACCL:
Amsterdam is onze stad. Dit is de stad waar God ons geplaatst heeft. Hij heeft visie en hoop voor deze bijzondere stad. Wij realiseren ons dat wij een verantwoordelijkheid en taak hebben om invloed uit te oefenen in Amsterdam zodat Hij meer zichtbaar wordt in deze stad en haar bewoners.
We hebben elkaar daarbij nodig. Geen van ons kan dit alleen. We hebben informatie, achtergronden, kennis, support en aanmoediging nodig. Om deze reden hebben we aantal jaar geleden een initiatief groep gestart die onder de naam ACCL (Amsterdam Counsel of  Christian Leaders) al een aantal jaren optrekt om samen te lerenCde stad te dienen, voor de stad te bidden en verlangen heeft om zich met anderen te verbinden. Dit om de Amsterdam te zegenen, te dienen en te winnen voor Christus. De initiatiefgroep is begonnen met bevriende voorgangers / leiders met een evangelisch / charismatische achtergrond uit verschillende culturen maar zich bezig is uit te breiden  naar een brede vertegenwoordiging van alle kerkelijke achtergronden en culturen.
---
Amsterdam is our city. This is the city where God has placed us. He has a vision for this special city. We realize our self that we have a responsibility and task to influence the city of Amsterdam so the residents of the city will be more aware of His presence.
We need each other. None of us can do this alone. We need information, backgrounds, insights, support and encouragement. A few years ago we started for this reason an initial group of leaders under the name ACCL (Amsterdam Council of Christian Leaders), who are collaborating and sharing hearts in order learn how to serve the city, pray for the city and develop a desire to connect with others.  We do this in order to bless the city and to win its people for Christ. The initial group started with befriended pastors / leaders with a evangelic / pentecostal and diverse cultural backgrounds. We intentionally work to expand the council towards a broad representation of all church backgrounds and cultures.